Assessment Services Overview
---
Unique to the State of California, the Diagnostic Centers are the California Department of Education's primary provider of direct services and assistance to California school districts and their special education students. The Diagnostic Centers provide individualized assessment and educational planning services for California's most difficult to serve special education students.
The Diagnostic Centers use expert teams of assessment specialists. Each assessment is a carefully planned, dynamic process that is individualized, guided by a set of educationally relevant diagnostic questions, and designed to support the local educational agency by providing specialized intervention strategies and programming options.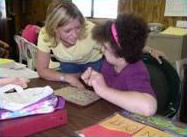 The diagnostic questions, coupled with the student's profile, guide the planning, implementation and location of the assessment. The assessments are conducted at the Diagnostic Center and/or the school site. Following the assessment, the Diagnostic Center team will meet with the family and district to review assessment findings and recommendations, and a comprehensive assessment report detailing the findings and recommendations will be provided at the meeting.
There is no cost for our services; however, requests for assessment services must be generated by the local school district.